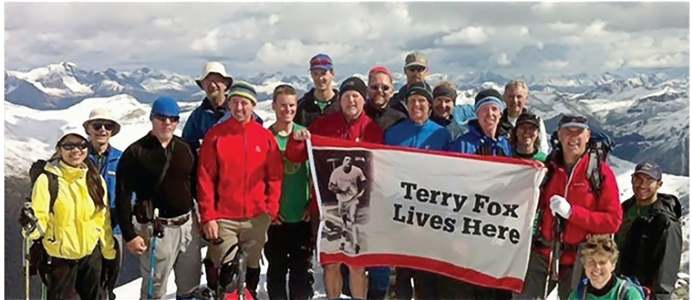 Date: August 17, 2019 at 6:00 am
The Terry Fox Foundation invites members of the Caledonia Ramblers to take part in the fifth annual Mt. Terry Fox Trek, this year to be held Saturday, Aug. 17th, near Valemount. Members of the Ramblers have participated in this event before, but must register first. Hikers can do so by visiting the www.terryfox.org website. The Trek is a Foundation fundraiser to help achieve a cancer-free world and to commemorate Terry Fox's 1980 Marathon of Hope.
There will be three different hikes up the mountain, to accommodate hikers with moderate, advanced and experienced fitness levels. The hike to the summit is the most difficult one and is rated as Very Strenuous. That means the hike can take 12 hours or more, has an elevation gain between 1,500 to 2,200 metres (4,500 to 6,500 feet) and has a total distance of over 20 km. To receive more information about this year's Trek, please contact Kirsten Fox.