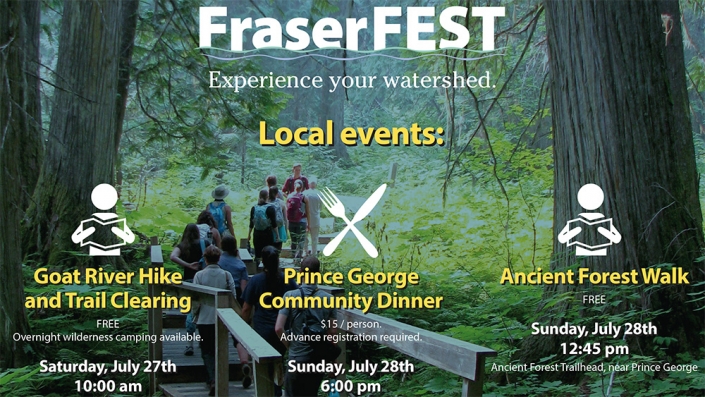 Date: July 27, 2019 at 10:00 am
Location: Goat River, Prince George and Ancient Forest
The Rivershed Society of BC would like to invite members of the Caledonia Ramblers to participate in FraserFEST activities July 27th - 28th, which this year will include an inaugural Prince George Community Dinner in Lheidli T'enneh Memorial Park July 28th, starting at 6 p.m. The activities begin with a free Goat River Hike and Trail Clearing event on July 27th, beginning at 10 a.m. at the Goat River trailhead, near Crescent Spur.
As has been the case the previous two years, the Caledonia Ramblers have agreed to co-host a free Ancient Forest Walk or Eco-Tour on July 28th, starting at 12:45 p.m. at the Ancient Forest trailhead. Ramblers' immediate past president, Nowell Senior, has agreed to lead this walk. The cost to attend the Prince George Community Dinner is $15.75 and the Rivershed Society of BC would ideally like people to register and buy their ticket for the event three days in advance. Ramblers can register by going to the Rivershed Society of BC website or www.FraserFEST.ca, click on 'Get Involved' then 'FraserFEST', then 'Community Dinners 2019', then Prince George Community Dinner July 28th.
People can also register and pay for their ticket by contacting Rivershed's financial administrator, by emailing Carol Hamshaw, or phoning 604-941-6882 to call in their registration ticket or pay for the dinner by e-transfer. Rivershed is even inviting people to make a whole weekend of it, by inviting people to go camping the evening of July 27th after the Goat River Hike and Trail Clearing. 
For more information about FraserFEST, please contact Rivershed Society of BC events coordinator, Melissa Chaun.