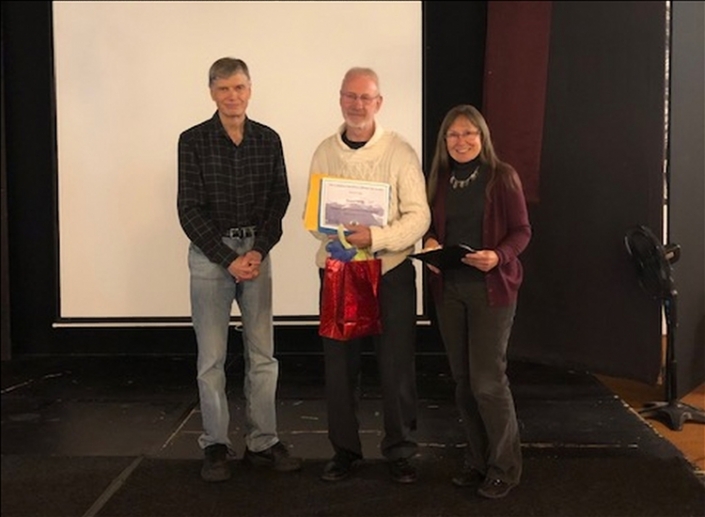 Nowell Senior was recently recognized by the Club for the significant contributions he has made for the last several years. His contributions not only made the Club better, but also helped establish a new provincial park. Nowell's list of accomplishments include:
Being a Board of Directors Member since 2009
Club President from 2010 to 2018 – 9 years and Past President until Feb 2019
Has led 5-6 hikes every year since 2006 – 13 years
Has been involved with Trail Maintenance & Grant Seeking since 2006
Expanded the regular Club Trip Schedule to include: Snowshoeing in 2009; Full Moon evening snowshoe trips in 2014; and Family Hikes & Family Snowshoe Trips in 2017
Began work on the Universal Boardwalk in 2010; completed in 2013. The Ancient Forest was designated as a Provincial Park in 2016.
Established the Friends of the Ancient Forest Trust in 2010 – 2019. Donations are now possible directly through BC Parks.
Nowell & Rita have organized the Club Christmas Parties since 2010, and have regularly ensured the refreshments & snacks for the Club Slide Shows & Events.
Thank-you Nowell for all that you have done, and continue to do for the Club!